So now that you have read why you should start a side hustle, lets get into how you should choose one! Choosing a side hustle can seem like a daunting task, but you really only have to ask yourself 3 questions:
What am I good at?
Do I have any skills to offer up?
What kind of time do I have available?
There are several different types of side hustles you could start depending on the answers given to these three questions. In this article we will give you examples for 5 types of side hustles you could try out: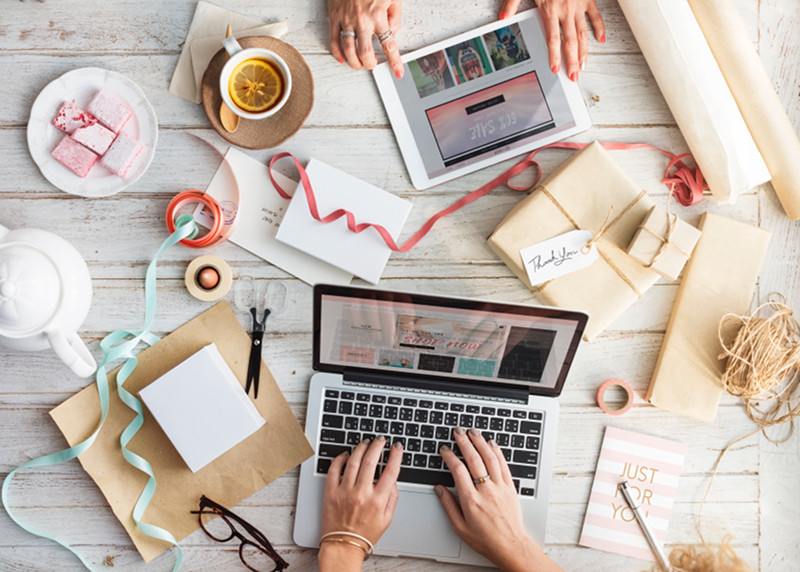 Online
The world wide web makes it more easier now that ever to start an online side hustle. Minimal human interaction is required to get cash in your pocket on these side gigs. Here are some examples of an online side hustle:
Etsy: Are you really good at artistic crafts such as painting, illustrating, sewing, design, etc? There are a plethora of different artists on Etsy who are selling their craft to online customer. If you're really good at some element of art you could totally join in on the action. Plus, setting up an Etsy store is easy!
Blogging: Do you love writing? Start a blog! If you have content that is creative and interesting that people will want to read, starting a blog is a fun and easy way to make a little side cash. After you feel like you've built a following you can require readers to pay for a subscription to read your blog. Viola! A creative outlet for you that puts cash in your pocket.
Craigslist: Short on time and money? Sell your stuff on Craigslist! This is so easy it's almost not a side hustle at all. People are constantly browsing for things on Craigslist, why not add your old treasures to make some extra doe?

The Share Economy
The "Share Economy" consists of side hustles that make use of an asset you already posses (like your car or rooms in your house). These types of side hustles are great because with little bit of work up front, you can use that asset (that you are already paying for) to make some extra money on the side! This is a great option for those who can't think any skills to offer up or don't have a whole lot of time to manage something. Here are some examples of side hustles using the "Share Economy":
AirBnB: This is an excellent way to make a substantial amount of money on the side if you have a spare room in your house or an entire home up for grabs. The only work required from you is setting up your host account, uploading the proper things and communicating as clearly as possible up front. After that it's just a matter of having a clean space, approving visitors and receiving their payments for booking your BnB! You could easily use the money you make from your AirBnB visitors to pay for the mortgage for your own home!
Über or Lyft: A little less passive that AirBnB, but none the less a side hustle that requires no skill (other than driving, ha!) and it is an option that operates on your time. All you have to do is set up your profile and decide if you're in the mood or have the time to get strangers from point A to point B for a small fee. Likewise with AirBnB, use the money made from Über or Lyft to make payments on your "taxi."

Easy Peasy Lemon Squeezy
Easy side hustles are what's up. Some require your time others don't and most of the time the tasks you're providing are very simple! Here are some quick and easy ways to make some money through a side hustle:
Babysitting: Do you like kids? Are you generally free on the weekends, after work, in the evening? Babysitting is a great way to make side money! Nowadays, people are shelling out a lot more than they used to for you to "sit on their babies" you could seriously make good money watching kids! Also if you are good at what you do, you are likely to be referred to others to watch their kids. Building a relationship with families likely means more money in the long run. Plus babysitting could easily turn into a more full-time gig with becoming a nanny. If you aren't great with kids or generally don't enjoy them, this side hustle probably isn't for you. If you are, you may want to join the babysitter club.
Dog Walking: Do you like dogs? Do you enjoy being outside and walking? Dog walking is a really easy way to make side money. Dog walking is similar to babysitting, in that building relationships with your customers goes a long way… people love their pets! If you are good with dogs and good to your customers you could monopolize on the dog walking empire in your town!
Housesitting: Some people don't like to leave their homes unattended when they leave for long periods of time– especially those with pets! This could be the easiest easy side hustle of them all. You get to have a whole house all to yourself and you get paid to make sure nothing out of the ordinary happens, sounds like a pretty sweet deal!

Physical Labor Required
Physical labor side hustles are great for those who want to be active with their free time and really use their hands. Some skill is required for some of these and typically require some of your time. However, if you love to help others with housekeeping tasks and want to get paid doing it, these side hustles could be for you:
Mowing Lawns: Busting out the lawn mower may seem like something easy that no one would actually pay you for, but there are plenty of people out there who either hate pushing around a mower in the hot sun, or simple aren't able to do it. If you love being outdoors and the smell of freshly cut grass, starting a lawn business could be the perfect fit for you! All you need is the proper equipment. There are a lot of people out there who have made great money owning a side lawn business!
House Cleaning: Similar to mowing the yard, some people hate to clean or don't have the time. If you are a detailed-oriented person and enjoy being tidy, you could seriously help a lot of people and get paid doing it! Customers will likely have their own cleaning supplies, and even if they don't, supplies are relatively cheap to get your hands on. People will pay you big bucks to live in a clean house without having to do any of the work themselves.
Handyman Work: Are you good with tools and like the challenge of fixing something? There are a lot of people who appreciate a handyman who will roll up their sleeves and fix problem for them. You can make quick and easy money fixing leaky faucets, plunging a toilet or working on someone's car.

Some Skill Required
This type of side hustle is strictly skill based, but everyone is good at something right? Side gigs like this usually ask for some of your time, but being able to apply your skills to help others can be a rewarding experience in more ways than one. Using your talents to help people not only feels great, but you can get paid to do it too! Here are some examples of these side hustles:
Tutoring: are you a wiz kid? There are plenty of students out there who could use some extra guidance in a number of academic subjects. Put your knowledge to good use by helping another student become a wiz kid too!
Music Lessons: If you know how to play any instrument at all music lessons are an excellent way to make extra money. There are plenty of people out there who would love to learn how to play an instrument and you can use your talents to help!
Catering: This is more time consuming side hustle, but this is one of those side hustles that could turn into a main hustle if you had the time and the talent. For every person who loves to cook there's a person who can't stand it. People are constantly hosting events and needing food to be catered for those events. Throw your chef hat in the ring of options for people to choose and watch your finances rise!
Choose a Side Hustle!
As you can see, the possibilities are endless! You don't have to choose any of these options. Just think about what you love to do or what you have time to do and just start! You will be surprised with how much a side hustle can help you move closer to financial freedom. Have an idea for a side hustle? Comment below, we'd love to hear it!