Now you know the importance of having an email list, the next thing to know is how to build your email list. With these three easy steps you'll be on your way to compiling a full list of fans!
Step 1: Add a Sign-Up Form to Your Site
There are three different ways to add a sign-up form to your site.
Link
This is the easiest way to get a form on your site. It's as simple as creating a sign-up form through your email list service provider and then using a link on your website that would bring people to the sign up form. All they have to do is click the link, fill out the form and BAM they are on your email list!
Plugins
This way is a little harder to do than using a link, but totally doable! There are several plugins to choose from but these are our favorites:
Bloom: this plugin is AWESOME! It's user friendly, helps you build out forms and gives you several options of where you can put your forms on your site. In order to use Bloom you must have a subscription to Elegant Themes. Here's some good news though, if you are a Spark Sites Member you have access to the plugin for free!
MailChimp for WordPress: if you have MailChimp then this may be a great plugin for you. This plugin helps you add more subscribers to your list using various methods. With this plugin you will be able to create nice looking opt-in forms or integrate with other forms on your site. The great thing about this plugin is that it's free!
Mailmunch: Like the others, this plugin allows you to create aesthetically pleasing opt-in forms for your website without using any code. With Mailmunch, you can place a form at the bottom of all your blog posts for readers to subscribe. Turn your visitors into clients with Mailmunch for free!
Embed
This is probably the most difficult way to go about getting a sign-up form on your website. Depending on your service provider you can use and embed code found in your account with your email service provider. You can take that embed code and add it to your website. If you want to change how it looks, you may need to know some extra code.
Places to Add a Form:
These are some great spots on your website where we would suggest adding a sign-up form.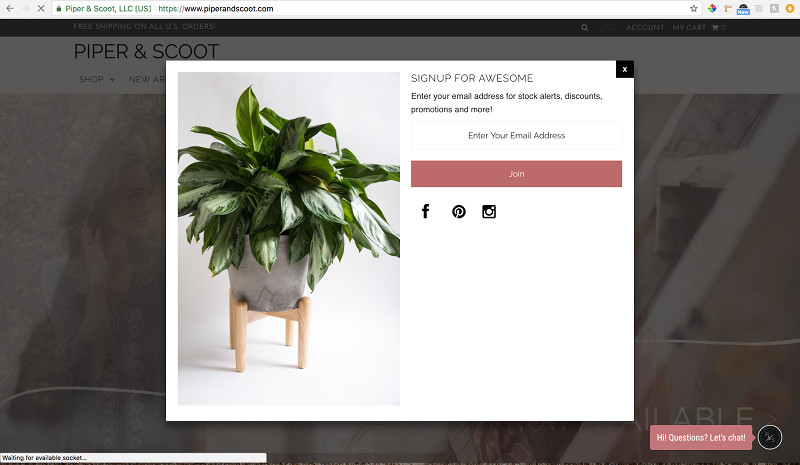 Step 2: Have an Offer in Exchange for Their Email
Don't be a taker! More people are likely to provide you with their email address if you offer them something in return. If you sell a product or a service, offer a discount on something you sell. People love a good deal and are more likely to give you their email in exchange for a bargain. If you don't sell a product, then at least offer some content in exchange for emails. Come up with a helpful "how-to" or a free eBook users can get their hands on if they give you their email address. An email sign-up with nothing in return can likely go unused, which means empty email lists for you.
Step 3: Have a Blog!
There are many reasons why your website should have a blog. Not only can your boost your SEO, having content that people are interested in will likely lead to more subscriptions. You can add a sign-up form to your blog's sidebar or add one to the end of your posts. That way once people sign up, you will be able to update your subscribers whenever you have new content. Just remember, content is KING. You want to make sure your blog content is relevant and valuable to your readers. If not, they are less likely to subscribe!

FAQ: Should I Use a Pop-Up?
It depends. It's important to know that Google can negatively rank your website if you have full page pop-ups. While pop-ups can be effective, in general users hate them! Think about when you're on someone's website with a mission and a pop up disrupts your experience, isn't it annoying? If you choose to have a pop-up then we'd suggest offering something of value along with your sign-up. Or you can try using a pop-up that comes out from the side or the bottom of your page so you don't interrupt the user. If you must go with a full page pop-up, try having it only for a limited amount of time like while you are running a special or a deal.
Go Build Your Email List!
Now that you know the importance of email lists and how to build one, the only thing left to do is to add a sign-up form to your site and start collecting subscribers.