Darryl's Email Tool
What Are the Best Tools for Email Communication?
What is the best way to communicate with your email contacts? What is the best tool to loop your clients in on what your business is doing or offering? And, can't you just use Gmail?
Of course you can just use Gmail! (Or GSuite Gmail!) There are a primary ways you can use Gmail to connect with your email list, current clients, or past clients.
But there are a few good reason to consider other CRM tools, such as MailChimp!
Good Ol' Gmail CRM
Gmail is trusty! Tons of small businesses use Gmail just fine! I know that we used Gmail for several years before upgrading to GSuite Gmail. So, if you think about it, we are still using Gmail! It's that good.
Here are a few ways to use Gmail as your CRM.
You Can Definitely Use Gmail as a CRM
Communication with your clients is about more than "just checking in" with them. Sending an email could be a huge opportunity to affirm to the client that you care. Showing that you care can be done by remembering birthdays, following up at a certain cadence, personalizing the email with their name, or even targeting specific sub-lists with targeted messaging.
And, there are even add-on tools that make a huge difference!
Streak for Gmail
Hubspot is one of the most reputable (and fun) online marketing branding and support companies on the web. We follow the Hubspot blog, as well as their social media accounts. Their business philosophy is infused in our own business model.
Just because they are so awesome, they launched an add-on for Gmail called Streak. Streak allows you to set up Kanban style pipelines for your clients. It embeds right into Gmail. As your build an email thread, that thread can move through the phases of your pipeline.
Installing Streak for Gmail is easy! Just click the ' + ' sign, search for 'Streak for Gmail', and install it.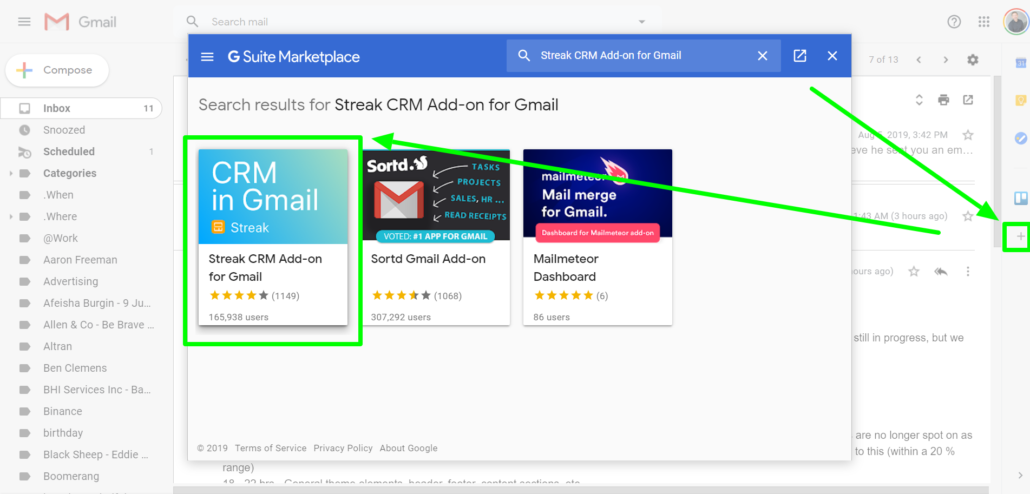 Click the Streak link on the right and follow the prompts to be up and running!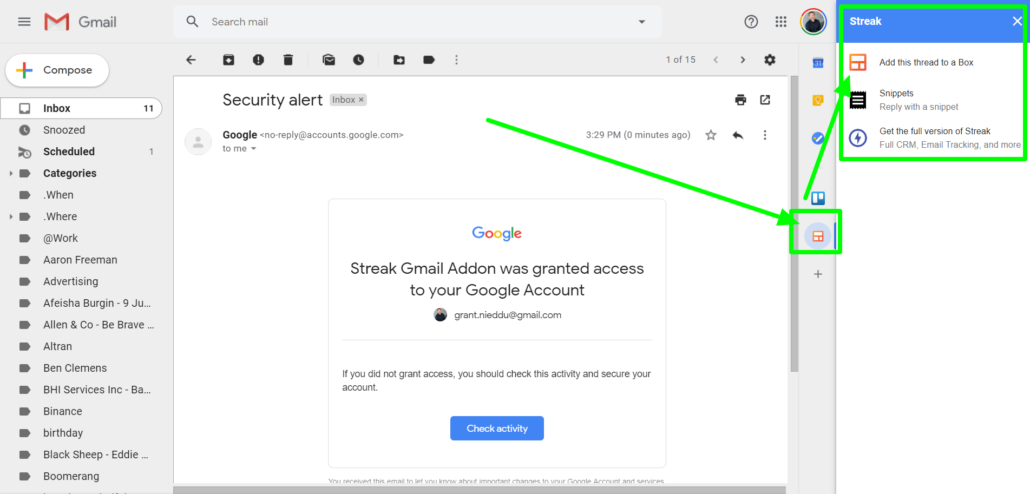 Once complete, you can access your Pipelines in the left. Customize away!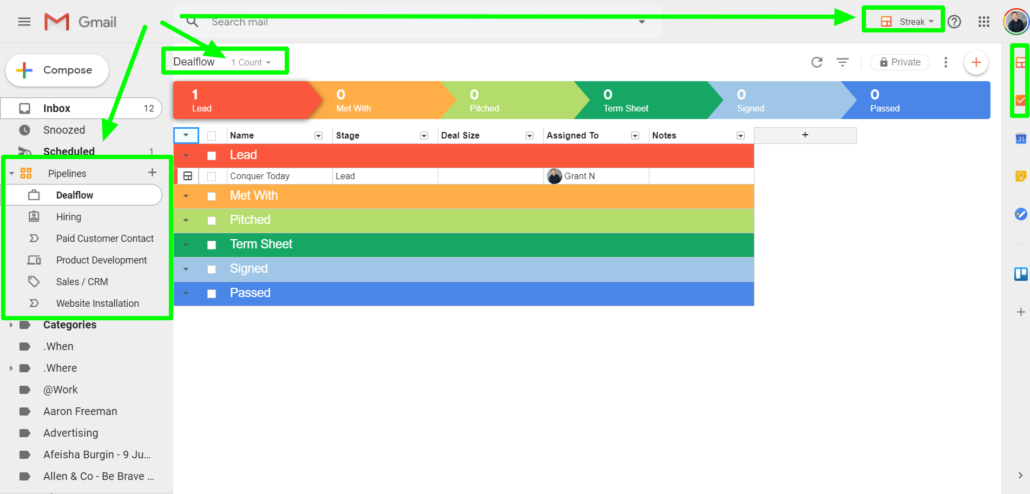 Your pipelines could be for Sales, Customer Service, or just Client Success Communications! You could use it for a ton.
Voila! Gmail is now a (very useful) CRM.
Streak vs. Email Templates
So, you have a powerful tool you can use, Streak! But, if you are not really building out your CRM and you just want a faster way to communicate to your people, then I recommend simply creating email templates.
Gmail Templates with GDocs
You can create email templates in Google Drive (with a GDoc) by simply creating a new Doc, editing it per your standardized communication, saving it in a GDrive folder titled 'Email Templates', and using it from there!
Gmail Canned Responses
Canned response built into Gmail are really cool. In short, you can write out your canned responses and cue them up. It takes a little set up in the beginning, but it is well worth it if you just want a faster way to communicate to your list in a helpful way.
We will let the pros say it best. Here is Hubspot on using Gmail Canned Responses: https://blog.hubspot.com/sales/gmail-templates-canned-responses.
Enable Canned Responses quickly.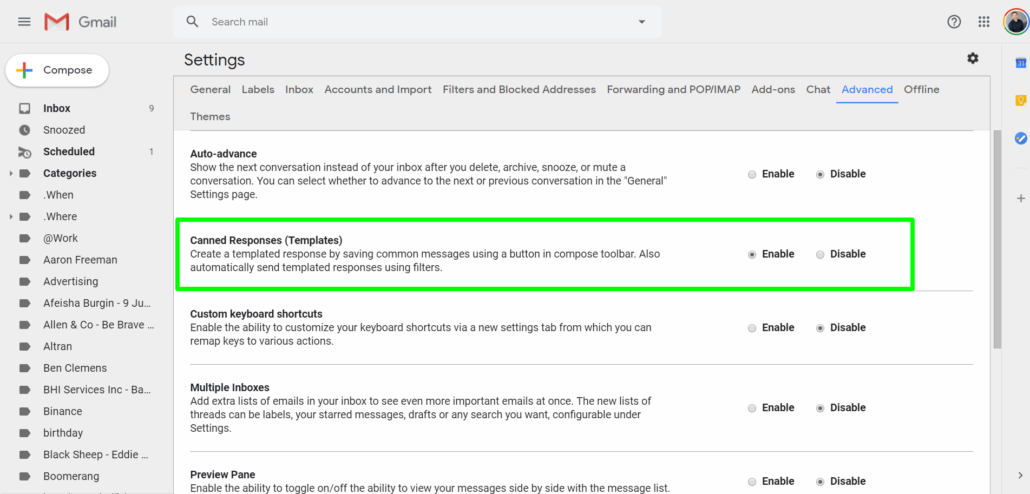 Edit Canned Responses, Save them, or Deploy them in the 3-dot menu here.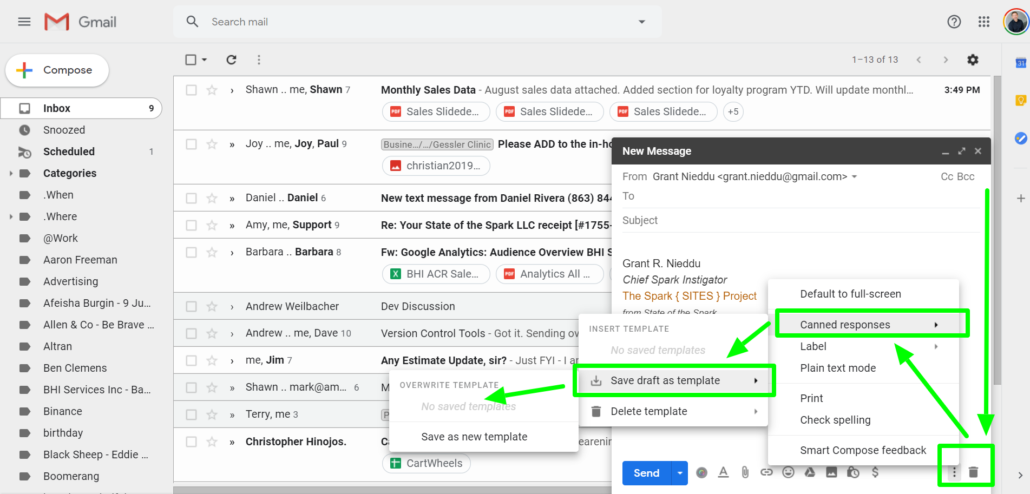 Take the time to set these up and you won't regret it.
So, you have two great approaches to communicating with your following right from Gmail. However, if you want to really up your LOC (line of communication) game with your clients, you have to explore MailChimp.
Even Better CRM, Because Excellence Matters
Coming from the Seth Godin school of business, we want to be sure that every chance possible we use the best tool available. That's why we use MailChimp.
Excellence Matters, So We Prefer MailChimp
We believe in using the best of the best when you have the budget to do so. In the case of CRM and Client Communications, we try to use MailChimp as often as possible.
A.) They Have the Most Amount of Developer Dollars.
That means that it is getting better all the time, and we can see it. The nuanced tools that they have now, including even a post-card campaign, are making it more and more useful all the time!
B.) They Ensure that Deliver-ability of the Email is High
This means that they have a solid way to ensure that your emails make it into your clients' (and potential clients') inboxes! They have killer support. Their wizard for setting up a campaign is very intelligent.
MailChimp tracks the open-rate and will even suggest sending a new email to the specific segment of your email list who received your email but haven't opened it yet! It is super intelligent. It is so intelligent that I would even call it your Email Assistant!
Quick MailChimp Tips
To get up and running with MailChimp quickly and make the most of the service, follow these quick steps:
Download your Contact List from Gmail Contacts.
Upload that same list to MailChimp so your contacts are ready to go!
Send out an update to your entire list to signal to them that you're leveling up your email game, and that you're thinking about them!
Plan an email campaign to welcome your new contacts with 3 emails, giving your clients stellar value in the 3 part email.
Then, when your next product offering is about to be ready, plan a roll-out plan through an email campaign to warm up the audience to your new offering!
Originally posted on YouTube: Episode 219: Darryl's Email Tools