1 Year of Content Creation
Rank Higher on Google
Ready to grow your business by increasing your SEO Ranking? It's time to learn about your audience, start creating awareness in them about your business, and possibly begin to drive sales.
Goals of the 1-year Content Creation Plan:
With our 1-Year Content Creation plan, the Primary Goal: is to learn about your audience, raise awareness of your brand, and safely and affordably launch you into marketing your business.
We, of course, have Secondary Goals. We also want to:
set up your web presence accounts (Google Business, Facebook, YouTube, etc.),
increase your Google page rank, grow your Facebook following,
build a brand asset (in the form of a defined and ever-growing Facebook custom audience),
and help your audience get multiple exposures to your brand.
1-Year Content Creation Plan Deliverables:
52 AI-created Blog posts on your website. (Impression 01)
Share on your Google Stories listing (Impression 02)
Available to you to share on your Instagram stories (Impression 03) and then to Facebook Stories (Impression 04) and then to Google Business (Impression 05) (or others based on where your audience is located)
How do you know if the 1-Year Content Creation Plan is working for you?
These are the success metrics you should be looking for with this initial Marketing Plan:
Each client and their friends see your post multiple times (this is HUGE).
We learn more actionable data about your target clients.
We build your Custom Audiences (to re-target your potential clients).
We offer any deals you are running to maximize your benefit (such as referral programs, bogo, etc).
Our Ideal Clients:
We love working with amazing, ambitious clients who are making an impact. Below are some of the values that our ideal clients hold in common with us: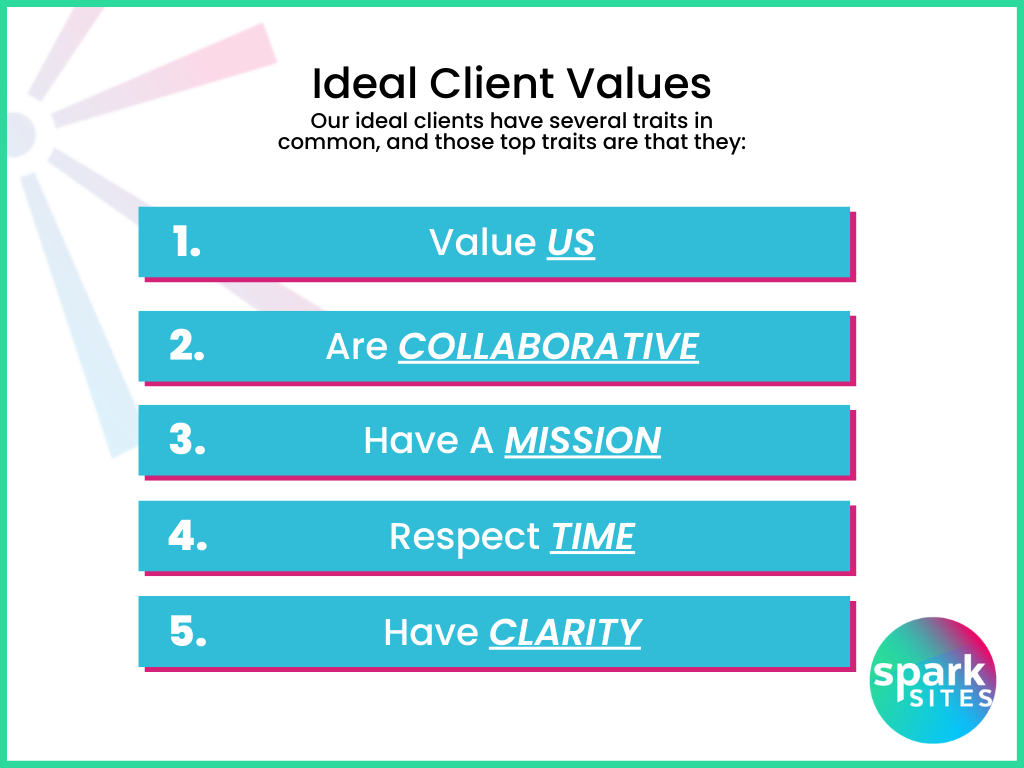 Want More Hands-On Help Beyond The Website Build?
You will be working with our team in an on-going basis, to support your growing business and it's web presence needs, then let us know. You may know, as we do, that building a website is only the beginning. By becoming a member, you could not only get the great Spark Sites Member WordPress Support, but also receive your new website for a preferred member rate. Learn more here!