Scheduling is a crucial part of running any business. Knowing when your appointments are happening, when your delivery is coming or even when you can get more inventory are all important parts of running your day-to-day operations. We're big believers in best practices which is why we thought we'd share with you what to look for when choosing an app that will help you manage your company's precious time.
What type of scheduling app are you looking for?
There are many different kinds of scheduling apps available – some just offer basic appointment times while others allow unlimited booking and don't charge extra fees or require special software training. This versatility not only provides valuable features but saves valuable time as well!
The kind of productivity your business needs is unique which means you need an application specific to your needs! It's best to outline how often appointments happen, which staff members will be using the system and any other customized aspects so there aren't any surprises when you find out everything doesn't work smoothly after investing in something new.
You should also think about customer's needs – are there specific features you want your users to have? What will they need access to on the app that isn't provided by default? For instance, some apps provide a forum for doctors and patients. The time of appointments can also vary so consider how busy your company is at different times of the day if staff availability will be important, or available evenings or weekends etc.
Get started today with one of these 3 scheduling apps
Don't have time to research scheduling apps? We've selected our 3 favorite apps to help you narrow down which solution is best for your business.
#1 Calendly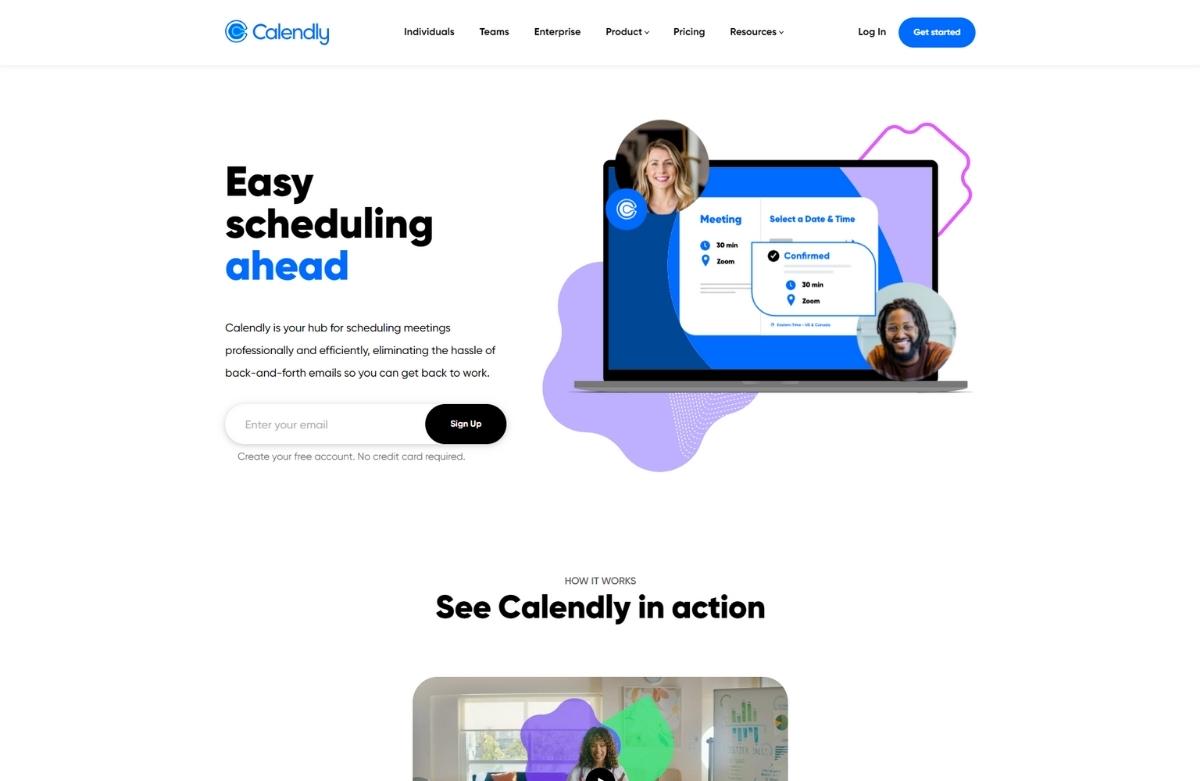 Free Level + Easiest to Get Started
Calendly is a free online tool that sets availability and allows scheduling without exchanging email addresses or complicated back and forth. Calendly is the #1 scheduling tool for freelancers. It's an easy way to make your availability obvious, which helps customers book their appointments with ease. Calendly is the fastest way to convert leads into bookings. You can set up availability with one click inside of Calendly, instead of spending time replying back and forth via email. Calendly works on desktop, mobile, tablet, and in a browser extension.
#2 Acuity Scheduling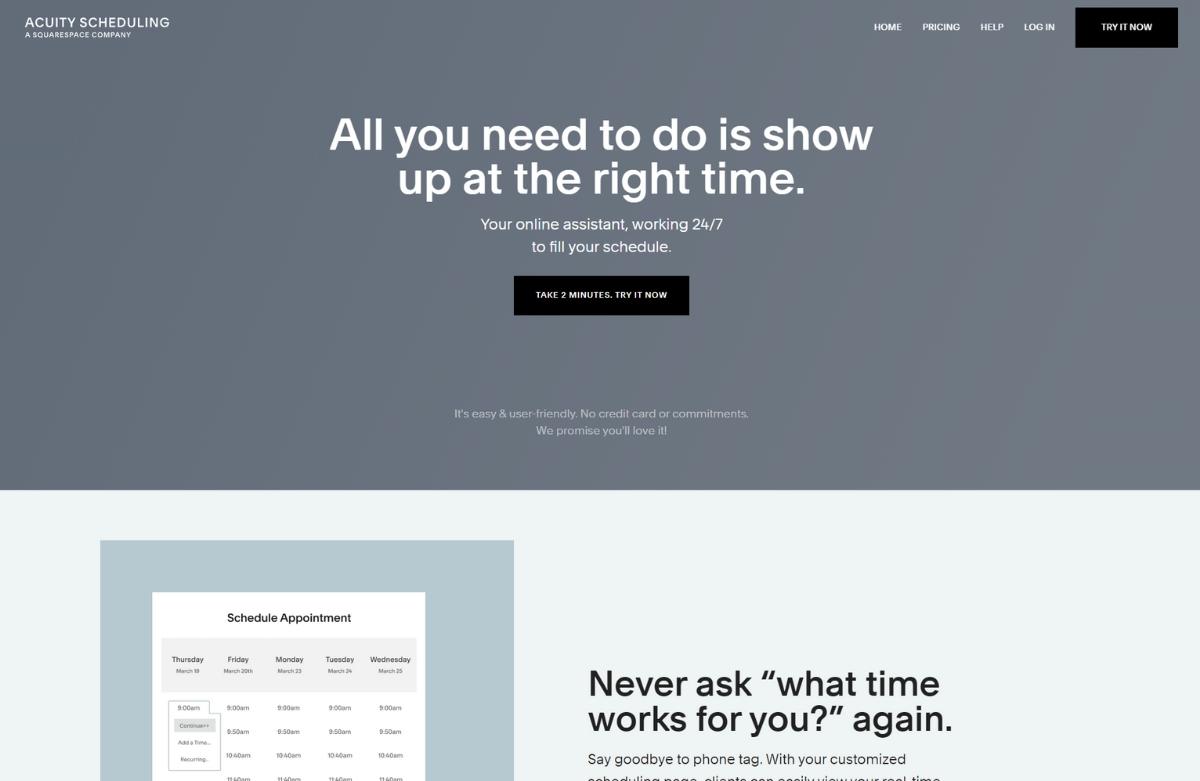 Best for Teams + Growing Organizations
Acuity Scheduling is a fast and simple way to schedule events with everyone you know, from small groups of friends to the whole office. It helps you sync your calendar, notify your attendees, and share availability via email or text. If you want to make it easy for your boss, team, clients or volunteers to manage their own time with you, go ahead and click "Book Now" on any of the blue "Schedule" buttons. Acuity turns your calendar into a booking tool that makes it easy for you to be efficient and collaborative. And if your existing calendar allows you to sync invitees' free/busy times, we'll use that data instead of asking for availability. If you'd like to add an event but don't have a calendar yet, pop on over to the "My Events" tab and add a new personal or group calendar right from there.
Learn more at AcuityScheduling.com.
#3 HoneyBook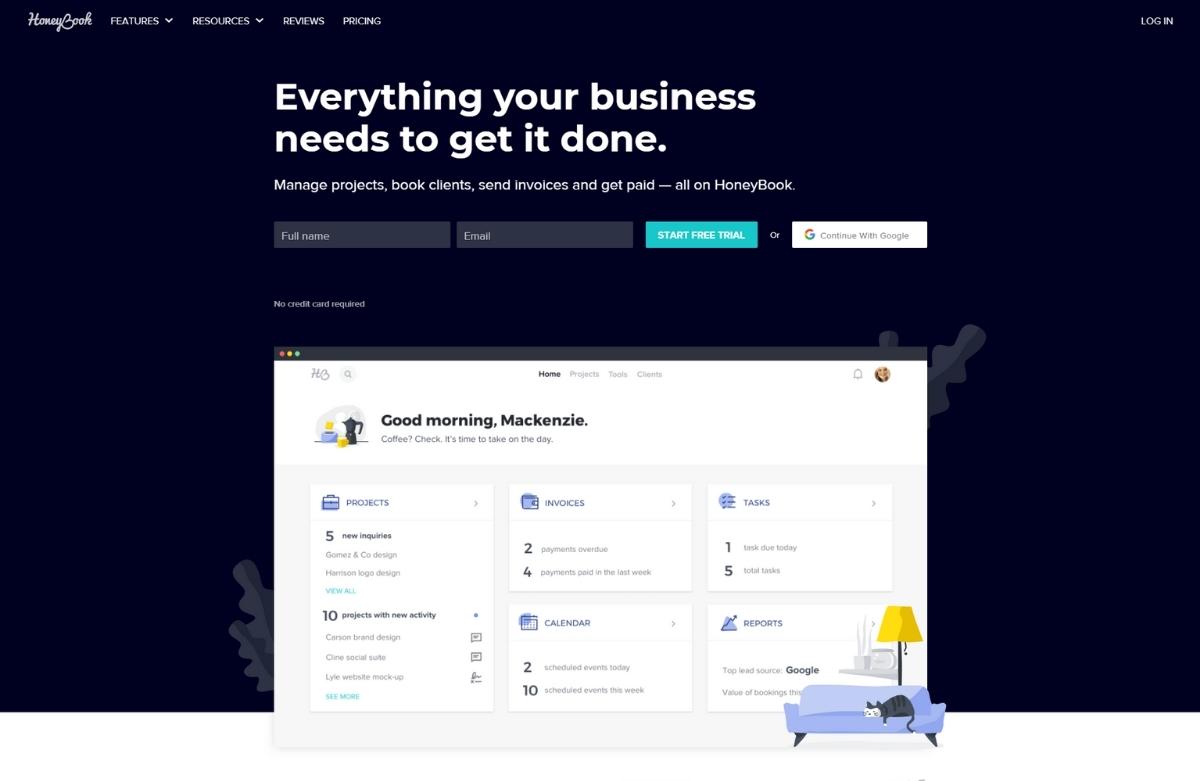 Best All-in-One Solution for Freelancers
HoneyBook is the bookkeeping & billing software that freelancers love. Entries in HoneyBook automatically create invoices for your clients. Get paid faster, track time with ease, and focus on growing your business. HoneyBook is the digital bookkeeper you need to keep you organized and on top of billings. If you are an individual or company that needs to handle multiple clients, projects, invoices, and payment plans HoneyBook is the solution for you. HoneyBook is a fully integrated tool that touches all parts of your freelance business. From project management to invoice creation to payment processing this all-in-one machine will help you grow your bottom line.
The Bottom Line
Scheduling apps are extremely efficient in cutting-down those annoying back-and-forth scheduling emails. We've outlined just 3 of the many scheduling options on the market. When choosing the best solution for your business, we suggest writing down a list of the features you are looking for and prioritize that list form most important to least important. If you are itching to get started right now for free, Calendly would be the way to go!
Contact the Spark Team for the best ways to integrate your new scheduling app with your website.