In the world of small business people have a lot to say, and you care a whole lot about what your customers have to say about your business. Two of the most powerful ways people review other businesses is through Facebook and Google. With Google being the king of all search engines and content, and Facebook being the most widely used social media platform of all time, the pair make quite the dynamic duo when it comes to collecting testimonials. While they are both great, there are differences between them.

Google Reviews
Like we said before; there's no greater search engine than Google. In our opinion if there was ever a company that was capable of taking over the world, it's not Apple, it's not Amazon, it's 100% Google. If Google is ever behind on something, they are always quick to catch up and almost always improve the functionality of whatever they are "catching up to." (Ex. Yelp was established in 2004, Google added reviews in 2012 and are already slaying harder than Yelp when it comes to functionality).
The great thing about Google Reviews is that it is tightly tied with local SEO. If you have more reviews on your Google Business listing, that is going to help improve your SEO listing. If there's anything a small business owner is looking to boost it's always their SEO. Think about it, people are always searching "____ near me," depending on whatever they are in need of at the time. They are way more likely to go with whatever business is listed at the top and has the most stars.
The downside of Google Reviews: literally anyone and their mom can write a review. Unfortunately, unless it's a loyal customer, most people are inspired to write reviews based on a negative experience. The good thing for you is the ability to respond to reviews posted on Google. The unfortunate part, all the potential damage control for you if people have a negative experience with your business and feel passionate enough to let others know.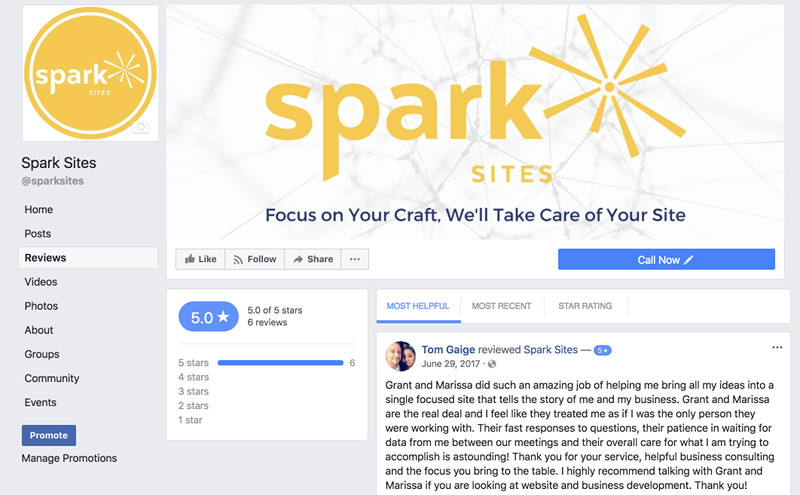 Facebook Reviews
There are about 2 billion people on Facebook, and there are more than 40 million small business pages active on Facebook. What does that tell you? Everybody uses Facebook and there are a lot of Facebook Pages out there to "like." Facebook rolled out the reviews option on their Pages in 2013 and have totally changed the way small businesses collect reviews today.
Leaving a review on Facebook is without a doubt the easiest way to write a review for a small business. Being a platform based solely on communication, it's never been easier to chat with your customers than it is on Facebook. Also, since the people writing reviews on your Facebook Page have probably "liked" your page they are likely to leave a positive review. People enjoy being a patron to local small businesses they love and Facebook makes it easy for them to rave positively about them. Also, as a bonus when you receive a rating on Facebook, Google also shows what your rating on Facebook is as well. So receiving a review on Facebook means also nabbing a review on Google as well! "Two for the price of one!"
So which is better?
Honestly, both are so great. Being big Google fans we love that Google jumped on the reviews bandwagon, but Facebook is so incredibly accessible and a great place to foster a wellspring of positive reviews from happy, loyal customers.
Overall, we would suggest that you encourage your loyal clients to write reviews about you on both! If you don't have a Facebook Page for your business, you totally need to make one. Also, you're in luck because we have tutorial for you on how to create a Google My Business listing. Testimonials are so important to the success of your business, if you're wondering why check out our post Why You Should Add Testimonials to Your Website. Get your people to leave you some love and then be sure to add your testimonials to your website so you can get more fans for the future!