Instagram is one of the most popular forms of social media that exists today. In fact it has been predicted by eMarketer, that there will be 26.9 million users added to Instagram in just the U.S. by 2020! That's way more than Facebook or Twitter… combined! Basically, Instagram is where it's at and is one of the best places you can market your business if you don't already. Instagram isn't as simple as it seems on the surface to be successful. Sure the interface is super easy to use, but to grow your following takes several different tactics. Here are five tips we believe can help grow your Instagram following:
Tip #1: Have a Consistent Feed
When a user lands on your Instagram account they should instantly "catch your vibes" as soon as they see your feed. Figure out what represents your brand best: what colors do you mostly use? Are you more specific product based or people / lifestyle based? If you are a coffee shop you're likely going to post photos of your coffee products or people in your shop. It wouldn't make sense to post a photo of a sunset "just because" since that would be deviating from the consistency of your brand. Also, with consistency come posting daily! Whats the good of your account if you hardly post on it? People can't engage with something they never see, so post something your audience can engage with! We suggest posting every other day, if not every day. Don't worry, people won't think you're annoying! If they're following you, they want to see what you're posting! If this tip seems like it would be a lot of work, that's because it is. Great Instagram feeds with solid followings don't just happen overnight, it's something that has to be developed overtime. Once you figure out your niche, post everyday and you should see great results.
Tip #2: Use Tags and Hashtags
Using the right tags and hashtags can go a long way if done correctly. Hashtags are great because users all over the Instagram world search hashtags on a daily basis. Using hashtags that coincide with your field can help circulate your posts within the eyes of the right audience. Take a peek at the hashtags people in the same field are using, or even take a look at what your target audience is hashtagging and use those hashtags! It may be temping to use simple hashtags like #love or #beautiful or #puppies! for all your posts. While these hashtags have a high volume of posts, this makes it so much easier for your post to get lost amongst the noise. Use hashtags you know are popular, but not generic. For instance, one our Sparks Team members, Jenna is a photographer. She likes to use hashtags like #lookslikefilm and #thatsdarling on her posts because she knows they are widely used, but not overly generic hashtags within the photography community. Instagram allows you to use up to 30 hashtags, don't be afraid to use them all! If you don't want to type out 30 hashtags every time you post an Instagram, make a note on your phone of all the hashtags you want to use and simply copy and paste them when you post. Also, if you don't want to clog up your caption space, post your hashtags in a comment. They will work the same way without looking too busy.
Don't forget about tagging either! If you ever collaborate with other small businesses, tag them in your posts! They are likely to tag you as well if you respect this policy, and it's a win for both of you. Also, if you tag brands in your posts that are relevant it could give you an opportunity to be featured on their page as well. This not only exposes you to your followers, but that brand's followers as well!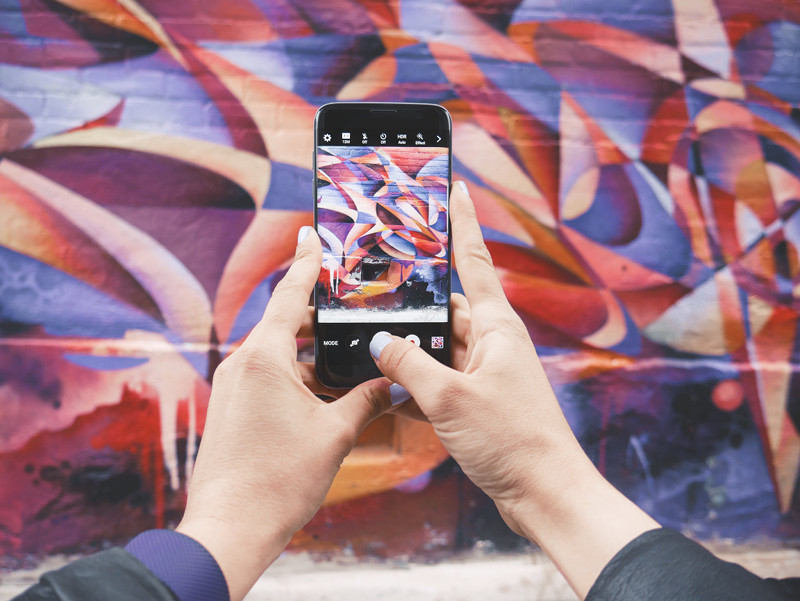 Tip #3: Utilize the Story Feature
At first when Instagram unveiled their story feature everyone's eyes rolled because they felt like they were copying Snapchat. Honestly, in our opinion this feature was a brilliant add. As a business no longer do you need to go back and forth between two different apps to get your point across. By using both regular photo / video posts and stories, you are able to establish a "polished" look (posts) and a "behind the scenes" look (stories) of your business. Again, if people hit the follow button then they are likely interested in seeing what your business is about. By using the story feature you can let users in on a more vulnerable side of your brand. If we go back to the coffee shop example, posting stories of baristas pouring beautiful latte art or the local band who's playing that night during soundcheck lets your audience in on a more personal side of the coffee shop. The story feature is also great if you want to advertise something, or have an on going event happening, but don't want to clog up your follower's newsfeed.
Bonus tip: use the location sticker within stories! When you use the location sticker, your story will likely appear in whatever location is tagged, opening your story (and account!) to a much wider audience.
Tip #4: Host a Giveaway
This a fun way to get followers quick! People like incentives so give them one for following you. Giveaways work best when you have a product or service to sell. For instance, if you own a design / illustration company, you could host a giveaway with one of your illustrations for people to get. Make a point of what this product usually costs, but that you can get your hands on it for free if you do the following steps. Usually these steps look something like:
• Follow the account
• Comment With X amount of other people's accounts
Typically what ends up happening is if the people who are tagged don't follow your account, but are interested in your giveaway, they will follow the directions. Meaning you get their follow and their shout out to three other people who many not follow you yet. People like free stuff, you like followers, everyone wins!
Tip #5: Understand Your Audience 
This tip seems more general, but none of the above will really work if you don't know what your target audience is wanting. Thankfully, there is a way to gauge your audience through Instagram Business! If you don't have a business account on Instagram it's super easy to set up, just follow these steps:
1. Go to your profile
2. Click the settings button (the cog)
3. Scroll until you see "Switch to Business Account"
And then you can fill in the gaps from there with your own business info! When you have this kind of account you are able to gain insights about your followers. You can see how your followers engage with your posts, what their demographics are and even what days of the week / hours of the day they are most active. Having this info will help dramatically with planning your Instagram posts and will likely boost your engagement. To use the coffee shop example one last time: if you check out your insights and find your followers are really into posts of your coffee, but don't really seem to be engaging with posts about your cookies, post more about the coffee and less about the cookies. If you followers aren't super active at 9am, don't post an Instagram at 9am, but maybe at 3pm when they are active. The list goes on with how having these insights will help. If you don't have a business Instagram account, switch today! If you hate it, it's super easy to switch back to a personal account.
Instagram Accounts We Think Are Solid
These are some of our clients who we think have a great examples of solid Instagram accounts. Follow them and learn the tricks of their Instagram posting trade!